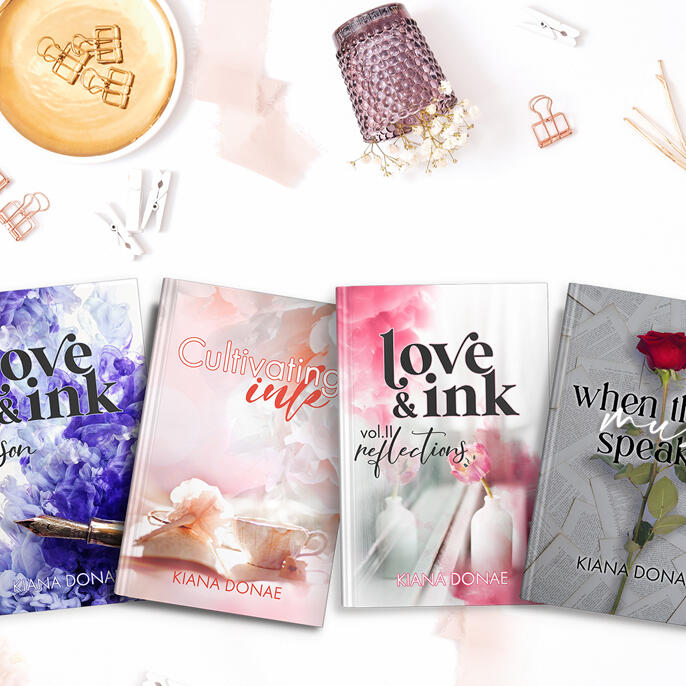 creating love + ink
Books
---
Published & Limited Edition
only published books can be found on Amazon
---
6x9 Paperback
103 pages
published 2020
-from Amazon: "this poetess allows the muse to pour out from the soul and spill perfection onto these inked pages..."
-from Amazon: "She is able to articulate moments we all can relate to in life."
6x9 Paperback
76 pages
published 2014
-from Amazon: "This book brings you emotionally to deep places and allows for introspection and growth. To me that is what great writing does!"
6x9 Paperback
82 pages
published 2015
-from Amazon: "Kiana delivers soul-searching fiery scribes that will leave you in Poetic Heaven."
6x9 Paperback
50 pages
published 2017
-from Amazon: "I have a wild admiration for poets. It's one thing to be a writer but to draw people in with a poem just amazes me. This collection by Kiana Donae, does just that."
$15.00
5x5 Photobook
25 pages
limited edition - never published
-NOTE: limited edition poetry book with (11) original poems and (11) high resolution photos that inspired the words, perfect for a coffee table or conversation piece gift
NOT AVAILABLE ON AMAZON
Please Contact the Author
About
Kiana Donae is a poet and author. The melodic rhythm of her words adapt and evolve with each stanza to express the versatility of her experiences. She finds her muse in the quiet spaces of the world. A place in which she can share her love and her words freely.
"Love is my action, poetry is my passion. I am love & ink." – Kiana Donae
Currently the author of four poetry collections, each one reflects the many facets
of human life. Poetry that will captivate the mind and soul.
When I'm not writing I'm often creating digital designs
& graphics as well as beautiful ways to preserve photos, memories and moments.
Or I'm headed to the lake to throw my pole into the water.